"I am very happy with the level of service I received from you. Your computer technical skills are excellent, and your follow-up was also excellent and made the process even better for me."... more
Our Services
IN-HOME TRAINING
You learn best on your own computer. Your computer is uniquely configured and generic help books can't always address your particular needs. High Country Web Design offers individualized on-site computer training classes, consulting and tech support, by appointment, throughout the Foothills region.
We offer many complete training and support packages you may select from. Or, you may wish to pick and choose various components from several of our courses to create your own personalized package. If you need training on a topic that we don't have listed here please contact us, we can probably help you with that too.
Introduction to Computers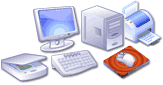 You have a mouse loose in your house, it is part of your computer, and it frightens you! This course is designed for beginners and gives you a basic understanding of the computer and its parts. The course is designed for those who are new to using a computer. A basic knowledge of working with a mouse is helpful, but not required.
Course Curriculum:
What is a computer?
The monitor, keyboard and mouse
Starting the computer
Starting applications
An electronic filing cabinet
The desktop
Icons
Clicking and double clicking
Shutting the computer off... properly
Quick tour of all the fun things to do with your computer
Ask all your questions
The Internet & Email
This course will give you a basic understanding of the Internet and experience working with email. During the course, you will receive training on browsing and searching for information on the Internet, and email applications and etiquette.
The course is designed for those who are new to using a computer yet some basic knowledge of working with the Windows environment and using the mouse is desirable. If you have some experience with the computer, or you've taken our Introduction to Computers class, you will be ready.
Course Curriculum:
What is the Internet?
Why is it important?
Connecting to the Internet
Choosing an Internet service provider (a key decisions for rural households)
Speed of access
Accessing web pages
Overview of Internet explorer
Search Engines
Favorites and history tools
Shortcuts

---

What is email?
Sending email
What are attachments?
The To, CC and BCC fields
Receiving, forwarding, replying
Managing email
Safe email: virus protection
Word Processing & Microsoft Word
In this course on word processing, we will use Microsoft Word to teach you the fundamentals of word processing on your computer. This course is excellent for beginners; you will learn many basic skills that will familiarize yourself with your computer and your word processing software. Even if you already have some computer experience, you will likely pickup many tips and tricks to speed up and improve your word processing capabilities.
The training is designed for those who are new to using a computer. A basic knowledge of working within the Windows environment and using the mouse is desirable. If you have some experience with the computer or you've taken our Introduction to Computers class you will be fine. If you don't have Microsoft Word, the skills you have can be applied to a program on most computers called WordPad.
Course Curriculum:
Starting Word
Menus & toolbars
Creating a document
What is a document?
My Documents Folder
Typing tips: entering & selecting text
Setting up your page, margins, headers and footers.
Grammar & spelling
Changing text colors & styles
Cut, copy and paste
Overview of alignment: left, right, center and justify
Using the ruler, tabs and page margins.
Keyboard tips
Saving your documents, and autosave.
Opening documents
Keyboard shortcuts
Printing and page setup
The format painter, and invaluable tool
Computer and Internet Security
Viruses, spyware, malware, spam, firewalls and computer backups are all issues that you have to concern yourself with immediately. It can be very expensive to ignore these issues (recently, a client paid $280.00 to have a preventable virus removed from an office computer).
Course Curriculum:
Internet connections
Computer viruses
Computer spyware
Computer malware
Email spam
Hardware firewalls
Software firewalls
Computer backups
Network security
Protecting a wireless Internet connection
Digital Cameras and Video Editing
There are many types of digital cameras and accessories. It is not our intention to teach you all intricacies of your specific camera and the software that comes with it. Having said that, we do have enough experience to teach you the fundamentals of digital photography as it relates to your computer.
Course Curriculum:
Installing and using your digital camera's software
Moving the pictures you've taken from your camera to your computer
Managing your photos and the weird names your camera gives them
View the photos as a slide show on your computer
Basic Photo Retouching
Backing up your images
Printing your images
Having your images professionally printed
Using the Internet to process your photos
Creating a Internet portfolio of your photos
E-mailing photos

---

Installing and using your video camera's software
Importing your video to your computer
Editing video
Publishing videos
eBay Auctions – Selling and Buying
Would you like to know more about getting started in this remarkable business? Would you rather do your own Auctions but need help to get started and need "real" hands on training? EagleAuctionsUSA will work with you on your computer or ours at your leisure to help you setup a fun and profitable EBay Auction. The fee for this service is negotiable depending on the level of training you wish to receive.
Course Curriculum:
How to get started using eBay
Company overview/history
Setting up an eBay account
Setting up a Canadian or US account and selecting a currency

---

Buying basics
Searching and browsing
Research required prior to placing bids
Making a bid
Watching an auction
Winning an auction

---

Selling basics
Pricing selections: start buy it now, using a reserve
Special enhanced features to highlight your sale
Photographing your merchandise
Designing eye-catching listings
Editing your listing
Choosing your shipping options
Choosing your payment options
Setting up a PayPal account: it's easier than your think
After the auction: payment and feedback

---

Make a profit selling on eBay
Getting a reliable and trustworthy reputation on eBay
Getting repeat customers
Keeping track of all your auctions
Selecting which auction type is right for your business
Easily creating an e-commerce site using eBay Stores
Don't get scammed by eBay and PayPal frauds
Home Page
|
About Us
|
Our Services
|
Our Portfolio
|
Request Quote
|
Contact Us
|
Client Login


© High Country Web Design. All rights reserved.
Web Design by:
High-Country Web Design
.