"Dave is a wonderful addition to the Okotoks and area business community and I would highly recommend him to anyone seeking a reliable, competent and affordable computer solutions service provider. We are already planning to use him again to do the updating and renewing of our website." ...more
Our Services
WEBSITE DESIGN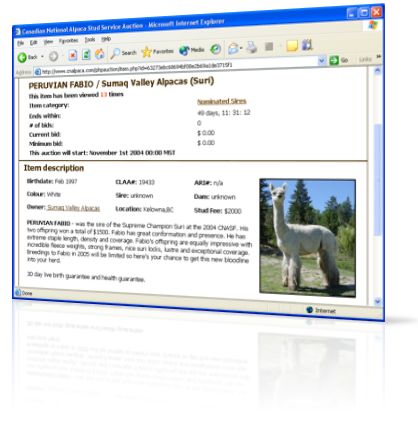 High Country Web Services specializes in high-quality website design and Internet services at affordable prices. Our websites are well organized, use clean designs, are intuitive and easy to navigate, designed to improve your sales or image, and foster online communication between you and your customers. We work closely with you during the entire development process from the initial planning stage to the final launch. You will be able to view your project online as it is being built using our private client login page; so if you have second thoughts about the design or layout we can make your modifications right away.
Whether you're launching a new website or having an existing website redesigned, we can make it happen. Contact us for a free quote and consultation.
Website Compatibility
All of the websites that we create are hand-coded, meaning we type in all of the internet coding required to display your pages. A clean and clear coding foundation for your website is crucial for many reasons. Hand-coding ensures stable, lean, reliable websites that are rendered quickly, are easy to maintain, and avoid the common errors software-generated sites introduce.
We run every website that we create through rigorous testing to ensure that it is cross-browser and cross-platform compatible. This ensures that your viewers will view your website without script errors or display oddities, no matter which browser or operating systems they use.
Website Maintenance
Once your site is up, you may need to update certain sections. Occasional minor text changes after completion of your project are provided free of charge. Changes other than minor text changes will be billed at the current hourly rate.

Depending on your businesses needs, we offer monthly payment plans for maintenance work, and never take more than 3 business days to complete updates. Another option is for us to train you and/or your employees to do updates and setup templates for you to update.
E-commerce Solutions
We are experienced in deploying a complete range of e-commerce solutions for your business. We can custom develop your online shopping cart or store and integrate it seamlessly with your website's look and feel. We can also integrate a variety of calculations for handling shipping and can accommodate the Canadian tax regime. Contact us about your e-commerce needs today.
Home Page
|
About Us
|
Our Services
|
Our Portfolio
|
Request Quote
|
Contact Us
|
Client Login


© High Country Web Design. All rights reserved.
Web Design by:
High-Country Web Design
.