Our Portfolio
TESTIMONIALS
Canadian Llama and Alpaca Association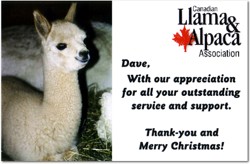 Our Association moved two of its web sites over to High Country Web Design earlier this year. Not only are the prices very reasonable, the service has been outstanding. Dave helped us every step of the way in making the arrangements for transferring the sites and registering of our Domain Names, even providing assistance when one registration process was difficult to complete. Dave performed a "test-run" of the web sites using our design program to ensure we wouldn't have problems once the sites were on-line with the new server.

High Country is only obligated to provide hosting services for our sites, but has gone above and beyond in helping us out with technical glitches we've experienced on the web sites due to computers, software and our Internet provider. While these problems weren't High Country's responsibility, Dave was able of offer assistance in getting them cleared up and we've been running problem free since. Dave talks in terms I can understand, and then works comfortably with the company doing our computer maintenance.

Our calls for help are always answered promptly and professionally, but with the personal touch we appreciate.

I would highly recommend High Country Web Design and Dave to anyone looking for exemplary customer service.

Lori May,
Executive Administrator,
Canadian Llama and Alpaca Association



Sunshine Nursery School
Dear David,

I am writing to you to thank you for the great web design you recently did for my nursery school. All the comments from everyone who has seen it have been extremely positive.

You did it expeditiously and also the cost was what you said it would be before we started. There were no surprises.

I also appreciate you helping me understand a little bit about computers and how they work so I could best input the information to you. Your excellent suggestions and ideas were very valuable in improving the site content.

Most importantly I feel the website really captures the quality, beliefs, philosophy and feeling of our school.

I heartily recommend you to anyone looking for an excellent web design at a reasonable cost.

Thanks so much again Dave.


Sincerely, Margaret R. Agnew,
Owner, Operator,
Sunshine Nursery School



JRT Sales Inc.
David of High Country Web Design was a pleasure to deal with during the construction of the first website for my company, JRT Sales Inc. His attention to detail and patience during the whole process speaks to the fact that David truly understands what customer service is all about. David also designed my new logo along with business cards and stationary. This part of his service was great as well as his ideas were always welcome and helpful. I will gladly recommend David and his services to anyone looking for a professionally designed and user friendly website.

Sincerely,

John Grilli,
President,
JRT Sales Inc.



Fenestration Components International
High Country Web Design did a magnificent job of creating our website. The attention to detail and Dave's ability to understand what we wanted incorporated into the website was excellent. Dave has the ability to communicate in a concise manner, allowing for clear communication. I appreciate his honesty and integrity and have already recommended High Country to several associates and friends.

Ted Paetkau,
Owner,
Fenestration Components International



Easy To Teach
Thanks so much for your patience and professionalism. The experience definitely was a positve one and I appreciate all the extra direction you gave me.

Pam Wegner,
Owner,
Easy To Teach



Canadian National Alpaca Sale & Futurity
We are very pleased with the speed, efficiency and quality of Dave's work. He researched software for our on-line Stud Service Auction and then re-worked the code so that it fit our needs. As a retired IT professional, I really appreciate Dave's skills, his work ethic and his dedication to customer satisfaction. Thanks to High Country we increased our Auction proceeds from $70,000 to over $88,000 and decreased our work load considerably.

Val MacLeod,
Director,
Canadian National Alpaca Sale & Futurity



JD Erectors Ltd.
After researching and talking with several computer businesses, I chose High-Country Web Design to set up two new computer systems for our company. Dave gladly made himself available when we needed him and provided us with prompt service and did his work in an organized fashion, multitasking where he could, therefore reducing the time and cost of the installations for us. He patiently and kindly answered all our questions in plain, easy to understand language and gladly showed us how to use some of the new features on our systems. He also did an excellent job in cleaning out our old systems and getting them ready for donation. Dave did a follow-up of his service by calling us, making sure that everything was running smoothly. That is not something that happens every day in todays society. It was much appreciated.

Dave is a wonderful addition to the Okotoks and area business community and I would highly recommend him to anyone seeking a reliable, competent and affordable computer solutions service provider. We are already planning to use him again to do the updating and renewing of our website.

Margaret Dick,
Office Manager,
JD Erectors Ltd.



Tydil Consulting Ltd.
Allow me to thank you for the efficient computer service that you have provided me with, setting up my new computer system.

I am very happy with the level of service I received from you. Your computer technical skills are excellent, and your follow-up was also excellent and made the process even better for me. In addition, your rates were very reasonable. Your efficiency and prompt response during the entire process promotes a feeling of trust and confidence. I have referred you to several of my friends and will continue the referrals in the future.

Maria Holden,
Tydil Consulting Ltd.



Safe Air Solutions, Inc.
I am extremely pleased with High Country Web Design's website design services. We asked for a simple information website and they made sure that we were happy with the overall result which was professional and clean. I highly recommend High Country Web Design for outstanding customer service.

Ron Craik,
President
Safe Air Solutions, Inc.



Update: Safe Air Solutions search engine ranking has been steadily improving since we designed their website in 2001. They currently have a first place ranking in Google for their selected keyword searches. (February 2004).



Coaching Kits
I am very pleased with our website that was developed by High Country Web Design. They did a total make-over of our site including introducing us to PayPal's e-commerce functionality. Our site now looks very professional and along with the search engine placements we have significantly increased our online sales. We are saving money thanks to their recommendations and making more from the professional site and increased traffic. The entire site was completed on time and at a great price. I am proud to recommend High Country Web Design to others needing this kind of service.

S. Cuthbert,
General Manager
Ultimate Coaching Kits




Home Page

|

About Us

|

Our Services

|

Our Portfolio

|

Request Quote

|

Contact Us

|

Client Login


© High Country Web Design. All rights reserved.
Web Design by:
High-Country Web Design
.